Looking for attachments for construction machinery?
We're ready to help – no matter whether you are an OEM or would like to market your own private label brand.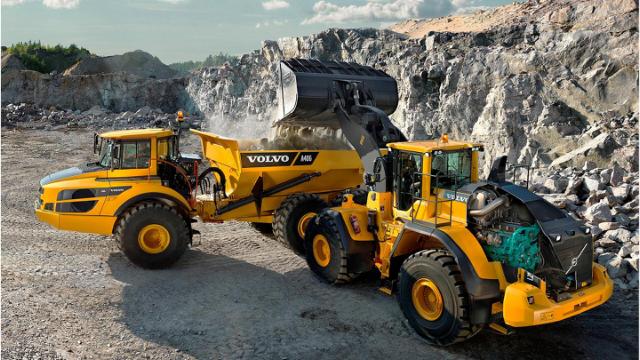 There are two types of customers
Okay, that's a bit of an exaggeration but hear us out.
The first type of customer is the one who comes to us with ready-to-produce designs and drawings of buckets and other attchments. At the other end of the scale, we find those who have nothing but big ambitions and eagerness to build a bucket program – from scratch together with us.
No matter whether you need our manufacturing expertise, the whole package or anything in between, we are ready to help.
TYPE 1
Do you have product drawings?
Perfect. Our state-of-the-art manufacturing facilities and technical department are at your disposal – ready to manufacture your attachment products.
TYPE 2
Would you like us to help create & manufacture?
No problem. We are ready to help you build and manufacture the attachment program that suits your business goals – in close collaboration with you.
3 main reasons to partner with us
Flexibility
We can manufacture a wide range of product types and variants to meet the specific needs of machines and applications. And we can ship directly to your customer.
Quality
We offer premium product quality – we use reinforced steel from internationally recognized steel manufacturers and comply with high international welding standards in the industry – to ensure durable performance.
Reliability
We are a robust and secure partner within your supply chain. This is the result of dedication, a comprehensive logistics setup and a long-lasting partnership with SSAB – one of the leading suppliers of high-strength steels.
We are originals ...
We believe in the power of the original. Not because it's fancy, but because it provides entrepreneurs and machine operators with the optimum solution. Perhaps you feel the same?
Together with our OEM customers, we make sure every original bucket manufactured by Sjørring is carefully adapted to the size, design and geographical requirements for any given excavator or wheel loader. This way, your original attachment solution is optimized in every field to maximize productivity.
… and into private labelling
Would you like to market your own attachment brand? Without the hassles of manufacturing it? Then we can help you.
We have vast experience in private labelling. In short, in collaboration with you our specialists can help create and manufacture attachment programs – exclusively to your business. If you would like the longer version, you should click the button below.
Steel the show with our manufacturing facilities
18,000
square metres production facilities home to experienced specialists and modern technology.
14,000
tons of steel are used annually in our production.
10
welding robots able to handle products from 200 kg and up.
In front on more fronts
We talk a lot about helping companies being in front. However, this isn't just talk. It's our mantra. Our way of working. We constantly seek to push boundaries and do a little extra for customers. 
No matter the magnitude of our collaboration, you can expect nothing but the best delivery and service. This is only possible thanks to our group of employees. In short, they are divided into six departments – each performing highly specialized jobs to provide customers with the optimum attachment products. Explore how below.
Sales and marketing
Do marketing people know about the construction equipment industry? Our specialists do – and they are ready to help you market your attachment solutions to accelerate sales.
Advise you on go-to-market strategies and concept development
Develop intuitive sales tools to help you and construction equipment dealers choose the right attachment
Help put your business out in front by being your dedicated point of contact at Sjørring
Quality assurance
Quality is key. That is why we house a team of skilled technicians and welding coordinators who have only one thing on their to-do list: They ensure that every product leaving Sjørring lives up to our highest standards.
Perform ongoing welding inspections on all outgoing products
Measure product geometry with a 3D coordinate measuring machine
Examine and approve all prototypes
Technical department
This department is home to an experienced team who will ensure your attachment products are manufactured to perfection
Transform your production documentation into our manufacturing set-up
Optimize processes and the use of materials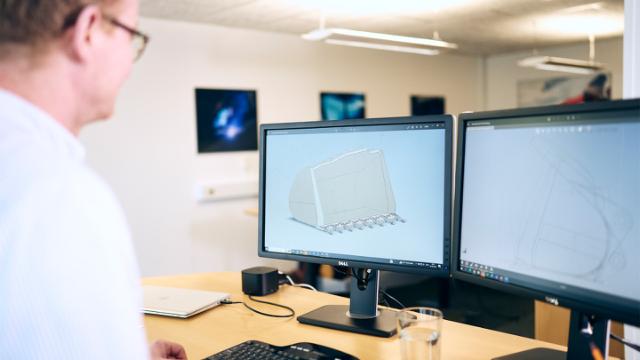 Engineering
Here, you are met by creative and pragmatic thinkers who collaborate with you regarding attachment products and programs.
Develop new products such as a clay excavator bucket with non-stick insert
Create new variations of existing products. This could be different bucket mountings, different bucket sizes or optimization of existing products to new applications
Engineer custom-built attachment products to meet specific customer requirements
Perform FEM modelling, wear calculations, material dimensioning and hydraulics specification
Strategic procurement
This department is home to forward-thinking and commercially astute purchasers who make sure we have the right parts, in the right quality at the right time. Always. As a result, our supply chain is secure and optimized to meet present and future needs.
Identify and develop suppliers who are eager to engage in long-term partnerships
Negotiate prices to minimize costs
Support the search for new materials and parts to improve the value and function of our products
Foster and maintain long-term supplier relationships to strengthen the supply chain
Logistics
You want your manufactured goods to be in the right place at the right time. So do we – and thanks to our meticulous logistics managers, you can be sure to receive your attachment products as agreed.
Plan, implement and control an efficient flow and storage of attachments manufactured by Sjørring
Process orders from start to finish
Provide all necessary distribution information – from the point the order is received to the point of consumption
We manufacture the bucket solution for every situation. Each component – floors, sides, ground-engaging tools, spill guards and wear parts – can be combined into various bucket variations. That is how we put your buckets out in front.

A bucket of certifications
To improve our processes and quality, we are certified according to leading, global standards – because it's no small task to manufacture attachments for heavy construction equipment.
Flexibility. Quality. Reliability. In front
Since we were founded in 1946, we have helped ambitious companies to be out in front in their areas of business. Our dedication and know-how has made us one of the leading European manufacturers of attachments to the construction equipment industry – and since joining Terratech Group in 2022, we have invested heavily and engaged in new partnerships to offer customers better services and solutions than ever.
Would you like to work with us?
We are ready to assist you in any way we can, whether you have a question about our process or want to learn more about what we can offer.