Excavator buckets that move your business out in front
Every excavator is designed and manufactured with productivity, operator comfort and robustness in mind. And for every excavation equipment – we can manufacture the bucket.
A perfect fit to maximize performance
Excavating is a tough task that requires the very best equipment to get the job done as safely, efficiently, and fatigue-free as possible. To maximize performance, productivity, and durability, it is crucial that the bucket fits the excavator.
We design and manufacture buckets to perfectly fit each specific machine and accommodate geographical factors. This minimizes strain and enhances the overall performance of the machine.
Excavator bucket types
What's on your bucket list?
What tasks should the bucket be used for? How big is the excavator? And what are the soil conditions in the area like? These may be tricky questions to answer. Fortunately, we're here to help.
Together, we can map your needs and form the foundation for developing and producing your new excavator bucket program.
Here, you can explore some of the various types of excavator buckets that we manufacture. And if you're looking for a different type of bucket for your range, we're confident that we can manufacture it.
We are originals ...
We believe in the power of the original. Not because it's fancy, but because it provides entrepreneurs and machine operators with the optimum solution. Perhaps you feel the same?
Together with our OEM customers, we make sure every original bucket manufactured by Sjørring is carefully adapted to the size, design and geographical requirements for any given excavator. This way, your original bucket solution is optimized in every field to maximize productivity.
… and into private labelling
Would you like to market your own brand of excavator buckets? Without the hassles of manufacturing it? Then we can help you.
We have vast experience in private labelling. In short, our specialists help create and manufacture attachment programs – exclusively to your business. If you would like the longer version, you should click the button below.
We use steel that works as hard as you do. Because you deserve buckets that endure even the toughest construction conditions.
1 kilo = 4 kilos
No, we have not miscalculated... Hear us out:
The weight of a bucket has a significant impact on the performance of an excavator. The weight can directly affect fuel consumption, thereby impacting both profitability and sustainability.
When it truly matters to reduce the weight of an excavator bucket, it's because every kilo saved on the bucket allows you to remove three kilos from the counterweight. In other words, for every kilo the bucket weighs less, you achieve a total weight savings of four kilos.
By reducing the weight of the bucket, less dead weight needs to be moved with each bucketful. This helps increase productivity and, most importantly, reduce fuel consumption.
Let's get in shape
The weight of an excavator and its intended task are the focal points when developing an excavator bucket. These two factors influence the size and shape of the bucket.
It's no surprise that a 55T excavator will require a larger bucket compared to a 20T machine. However, what may be less known is that the shape of an excavator bucket varies depending on the specific job it's intended for.
For instance, a demolition task will require a wider bucket, while digging trenches calls for a narrower bucket such as a cable bucket. This means that the geometry of the bucket changes based on the specific task the excavator needs to perform.
Earthmoving bucket variations
A bucket's ability to withstand various soil conditions raises many questions about the available options and add-ons for the bucket. Here's some of the various bucket options you should consider:
standard side wear plates or HD side wear plates
CW-coupling, S-coupling, Open-S, Hydrema, SWA, Lehnhoff System, Likufix or direct mounted
straight cutting edge, a bolt-on cutting edge, or a weld-on half arrow edge
preparation for sensor/GPS
GET (teeth and shrouds) according to your preferences
Do you have other requirements than the above? We're confident that we can manufacture it.
Put quality in front of excavators
Every structure, every wear plate and every tooth are of the highest possible quality. Because we put quality in front. Always.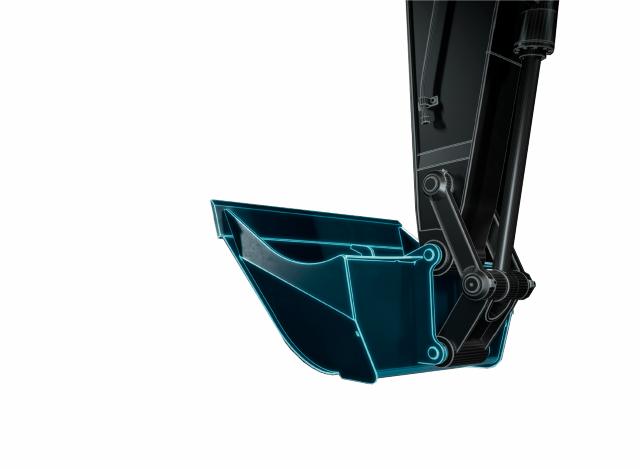 3 main reasons to partner with us
Flexibility
We can manufacture a wide range of product types and variants to meet the specific needs of machines and applications. And we can ship directly to your customer.
Quality
We offer premium product quality – we use reinforced steel from internationally recognized steel manufacturers and comply with high international welding standards in the industry – to ensure durable performance.
Reliability
We are a robust and secure partner within your supply chain. This is the result of dedication, a comprehensive logistics setup and a long-lasting partnership with SSAB – one of the leading suppliers of high-strength steels.
Would you like to work with us?
We are ready to assist you in any way we can, whether you have a question about our process or want to learn more about what we can offer.