Wheel loader buckets that offer loads of benefits
Wheel loaders are straightforward, yet powerful and durable machines. They perform V-pattern loading and load-and-carry operations, and the bucket at the front of the loader must work closely together with the machine to perform these tasks. And to perform well, the loader bucket has to fit the machine perfectly. Let's manufacture your buckets.
Wheel loader bucket types
What's on your bucket list?
Are you looking for a new wheel loader bucket program? Perfect.
We have over 40 years of experience in producing wheel loader buckets for the construction equipment industry. Serving both OEMs and private labels. And we can help you too.
Below, you can explore some of the various types of loader buckets that we can manufacture. And if you're looking for a different type of bucket for your line of loading shovels, we're confident that we can manufacture it.
Side dump bucket
If you want to offer your customers greater flexibility, improved safety, and increased efficiency, then let's have a look at the side dump bucket.
A side dump bucket dumps materials to the side of the loader, rather than in front of it.
High dump bucket
Take your loader bucket program to new heights.
A high dump bucket provides increased dumping height compared to standard buckets.
5 factors to consider when creating your program of wheel loader buckets
Market demans and customer requirements
Material selection and construction
Manufacturing processes and quality assurance
Logistics
Profitability
Our team of experienced technicians, engineers, and salespersons is here to guide you through the process. We will work collaboratively with you to create a range of wheel loader buckets that not only complements your brand but also maximizes profitability.
Turn up the volume
Capacity is key. It's that simple.
The capacity of a wheel loader bucket directly affects its productivity, efficiency, and performance.
A larger capacity bucket allows for more material to be moved in one pass, reducing the number of cycles required to complete a task and thereby increasing productivity. On the other hand, a smaller capacity bucket may be more suitable for tasks that require precision, maneuverability, or working in confined spaces.
Choosing the right capacity bucket for a wheel loader ensures that it can operate optimally, minimizing downtime and maximizing productivity.
The volume or capacity of a bucket is also important for safety reasons, as overloading a bucket can lead to instability, increased wear and tear on the equipment, and potential accidents.
Therefore, loading capacity should be the focal point of the construction of a loader bucket. We help you optimize the shape, size, dumping angle, and design of the cutting edge to maximize bucket capacity in correlation to the wheel loader and task at hand. Equally important is the choice of materials used in the construction of the bucket and the thickness of the steel.
The capacity of Sjørring-manufactured loader buckets is calculated according to the SAE (Society of Automotive Engineers) measurement, which is an industry standard that specifies the volume that the bucket can hold when it's filled to its maximum level.
Loads of options
To ensure that a loader bucket fits the machine and meets the specific requirements of the task, we offer a range of options and add-ons. Depending on the type of bucket, you should consider:
direct mounting or quick coupling
a flat floor or round floor
an integrated spillguard, perforated spillguard, enlarged spillguard, hood type spillguard, or spillguard with tubes
straight, convex, or concave side cutters
a straight lip or spade nose lip
standard side wear plates or HD side wear plates
a bolt-on cutting edge, a countersunk bolt-on cutting edge, a weld-on half arrow edge, weld-on teeth, bolt-on segments between weld-on teeth
GET according to your preferences
shrouds and other wear parts

Do you have other requirements than the above? We're confident that we can manufacture it.
Size matters ...
The size of a wheel loader bucket has tremendous impact on the performance of a loader.
Having a bucket that is sized correctly for the wheel loader is crucial for optimal performance, safe operation, durability, productivity, and fuel efficiency. It ensures that the wheel loader operates at its best capacity, minimizing risks, optimizing performance, and maximizing productivity while reducing operational costs.
That's why we always recommend choosing a bucket that is optimized to fit the loader in question.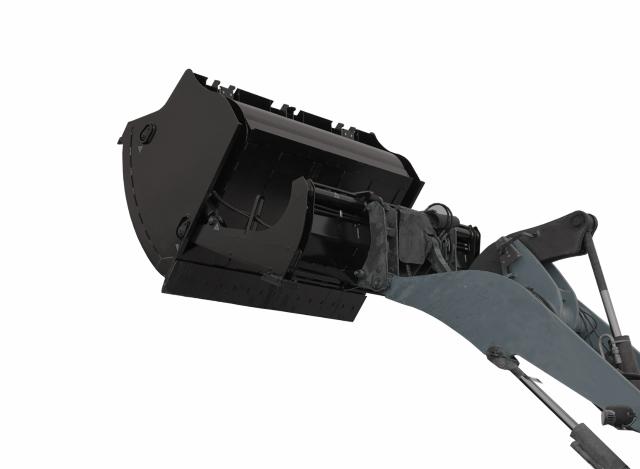 We provide the bucket solution for every situation. Each component – floors, sides, ground-engaging tools, spill guards and wear parts – can be combined into various bucket variations. That is how we put your buckets out in front.

Would you like to work with us?
We are ready to assist you in any way we can, whether you have a question about our process or want to learn more about what we can offer.