Choose a contract manufacturer that strengthens your welded components
Are you looking for a manufacturer who can transform your drawings into high-quality welded components? Then you are at the right place.
Which welded components do you need?
We develop and manufacture high-quality buckets and other attachments for the construction equipment industry.That's our core business. But there is more to us.
Thanks to our state-of-the-art manufacturing facilities, we can manufacture almost any welded component. This includes:
Frames for construction machinery
Components for log handling equipment
Stabilizers for dumpers
You name it
How we help you be in front of the competition
Robotic welding technology  
You will find a fleet of welding robots – e.g. from Valk Welding and IGM Welding Robots – in our 18,000m2 production facilities in Denmark. They are doing a great job but cannot do everything on their own.
Fortunately, we have a great team of highly skilled manual welding specialists. Together, they forge a state-of-the-art production process offering customers efficient lead times, consistency of supply and, not least, high-quality welded components.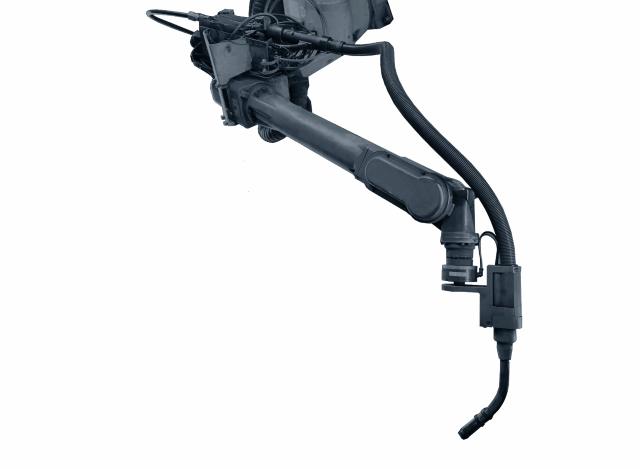 Is automation for everyone?
The short answer to this question would be "no, it's not."
To get the most out of our robotic welding technology, you need to plan for the long term and order a large series of products. Otherwise, it might be too costly. If you search for low volume or one-off production, you should consider having our welding specialists manufacture your smaller product series. Perhaps you are in doubt about what to do?
Steel the
show with our
manufacturing
facilities
18,000
square metres production facilities home to experienced specialists and modern technology.
14,000
tons of steel are used annually in our production.
10
welding robots able to handle products from 200 kg and up.
Cutting-edge technology
We are proud of our technology. With good reason. For instance, our cutting setup is capable of cutting steel plates up to 300 mm in thickness.
With no less than three different bending machines, we can create the exact curves you're looking for – bending steel plates with a pressure up to 1,000 tons.
In recent years, we have made significant investments in upgrading our setup with several new CNC boring and milling machines, enabling us to process a wider range of products – vertically, horizontally, and diagonally.
Our welding robots can handle products weighing up to 3,500 kg, while maintaining consistent uptime, keeping costs down, and reproducing exact product variations again and again and again.
Our advanced technology and modern production facilities help you manufacture more in less time.
Choose the manufacturer who can improve your business 
Since we were founded in 1946, we have helped ambitious companies to be out in front in their areas of business. Our dedication and know-how has made us one of the leading European manufacturers of attachments and welded components to the construction equipment industry – and since joining Terratech Group in 2022, we have invested heavily and engaged in new partnerships to offer customers better services and solutions than ever.
How can we help you?
If you believe we are the manufacturer you're looking for, don't hesitate to contact us.
We are ready to assist you in any way we can, whether you have a question about our process or want to learn more about what we can offer.