About us
Get to know Sjørring
In front since 1946 
Since we were founded in 1946, we have helped ambitious companies to be out in front in their areas of business. Our dedication and know-how has made us one of the leading European manufacturers of attachments to the construction equipment industry – and since joining Terratech Group in 2022, we have invested heavily and engaged in new partnerships to offer customers better services and solutions than ever.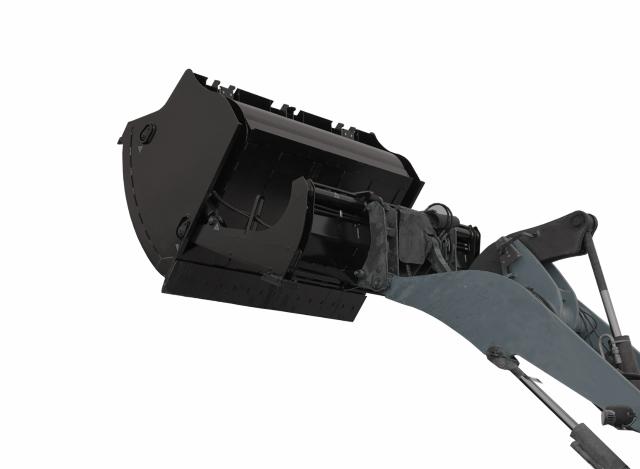 What we do
Sjørring is all about attachments. About being in front.
We supply robust attachments for the European construction equipment industry and delivering worldwide. We help some of the top-tier brands in the industry - such as Volvo, Hitachi, Doosan and Steelwrist - to reach their goals by utilizing our many years of experience.
Our ambition is to stay out in front. Always. Not just in the literal sense in front of machines, but also when it comes to innovation and technology. We want to push the boundaries and set new standards for the construction industry.
We do this by developing digital and technological solutions for specific environments and exact machine applications. We also do this by being out in front when it comes to robotic welding, production optimization and logistics. Finally, we do it by being the market leader when it comes to the use of Hardox® reinforced steel in many of the products that we manufacture.
We are originals ...
We believe in the power of the original. Not because it's fancy, but because it provides entrepreneurs and machine operators with the optimum solution. Perhaps you feel the same?
Together with our OEM customers, we make sure every original bucket manufactured by Sjørring is carefully adapted to the size, design and geographical requirements for any given excavator or wheel loader. This way, your original bucket solution is optimized in every field to maximize productivity.
… and into private labelling
Would you like to market your own attachment brand? Without the hassles of manufacturing it? Then we can help you.
We have vast experience in private labelling. In short, our specialists help create and manufacture attachment programs – exclusively to your business. If you would like the longer version, you should click the button below.
Looking for a contract manufacturer for your welded components?
We develop and manufacture high-quality buckets and other attachments for the construction equipment industry. That's our core business. But there is more to us.
Thanks to our state-of-the-art manufacturing facilities, we can manufacture almost any welded component. This includes:
Frames for construction machinery
Components for log handling equipment
Stabilizers for dumpers
You name it
Our core values
Flexibility
We can manufacture a wide range of product types and variants to meet the specific needs of machines and applications. And we can ship directly to your customer.
Quality
We offer premium product quality – we use reinforced steel from internationally recognized steel manufacturers and comply with high international welding standards in the industry – to ensure durable performance.
Reliability
We are a robust and secure partner within your supply chain. This is the result of dedication, a comprehensive logistics setup and a long-lasting partnership with SSAB – one of the leading suppliers of high-strength steels.
A bucket of certifications
To improve our processes and quality, we are certified according to leading, global standards – because it's no small task to manufacture attachments for heavy construction equipment.
Steel the show with our manufacturing facilities
18,000
square metres production facilities home to experienced specialists and modern technology.
14,000
tonnes of steel are used annually in our production.
10
welding robots able to handle products from 200 kg and up.
Join the Sjørring team
We're always on the lookout for new talents, innovative thinkers, pragmatics and the most pleasant colleagues. Explore what we can offer you as your next place of work.
We have your back – so you can be in front
If you believe we are the manufacturer you're looking for, don't hesitate to contact us.
We are ready to assist you in any way we can, whether you have a question about our process or want to learn more about what we can offer.